De beste en goedkoopste VPN-diensten
Deprecated
: Creation of dynamic property WP_Term::$cat_ID is deprecated in
/home/1/v/vpnexpert/wp/wp-includes/category.php
on line
378
Deprecated
: Creation of dynamic property WP_Term::$category_count is deprecated in
/home/1/v/vpnexpert/wp/wp-includes/category.php
on line
379
Deprecated
: Creation of dynamic property WP_Term::$category_description is deprecated in
/home/1/v/vpnexpert/wp/wp-includes/category.php
on line
380
Deprecated
: Creation of dynamic property WP_Term::$cat_name is deprecated in
/home/1/v/vpnexpert/wp/wp-includes/category.php
on line
381
Deprecated
: Creation of dynamic property WP_Term::$category_nicename is deprecated in
/home/1/v/vpnexpert/wp/wp-includes/category.php
on line
382
Deprecated
: Creation of dynamic property WP_Term::$category_parent is deprecated in
/home/1/v/vpnexpert/wp/wp-includes/category.php
on line
383
Laatst bijgewerkt: 13/06/2021
Deprecated
: Creation of dynamic property WP_Block::$attributes is deprecated in
/home/1/v/vpnexpert/wp/wp-includes/class-wp-block.php
on line
179
Deprecated
: preg_match(): Passing null to parameter #2 ($subject) of type string is deprecated in
/home/1/v/vpnexpert/wp/wp-includes/block-supports/layout.php
on line
167
Deprecated
: Creation of dynamic property WP_Block::$attributes is deprecated in
/home/1/v/vpnexpert/wp/wp-includes/class-wp-block.php
on line
179
Deprecated
: preg_match(): Passing null to parameter #2 ($subject) of type string is deprecated in
/home/1/v/vpnexpert/wp/wp-includes/block-supports/layout.php
on line
167
Deprecated
: Creation of dynamic property WP_Block::$attributes is deprecated in
/home/1/v/vpnexpert/wp/wp-includes/class-wp-block.php
on line
179
Deprecated
: preg_match(): Passing null to parameter #2 ($subject) of type string is deprecated in
/home/1/v/vpnexpert/wp/wp-includes/block-supports/layout.php
on line
167
Deprecated
: Creation of dynamic property WP_Block::$attributes is deprecated in
/home/1/v/vpnexpert/wp/wp-includes/class-wp-block.php
on line
179
Deprecated
: preg_match(): Passing null to parameter #2 ($subject) of type string is deprecated in
/home/1/v/vpnexpert/wp/wp-includes/block-supports/layout.php
on line
167
Deprecated
: Creation of dynamic property WP_Block::$attributes is deprecated in
/home/1/v/vpnexpert/wp/wp-includes/class-wp-block.php
on line
179
Deprecated
: preg_match(): Passing null to parameter #2 ($subject) of type string is deprecated in
/home/1/v/vpnexpert/wp/wp-includes/block-supports/layout.php
on line
167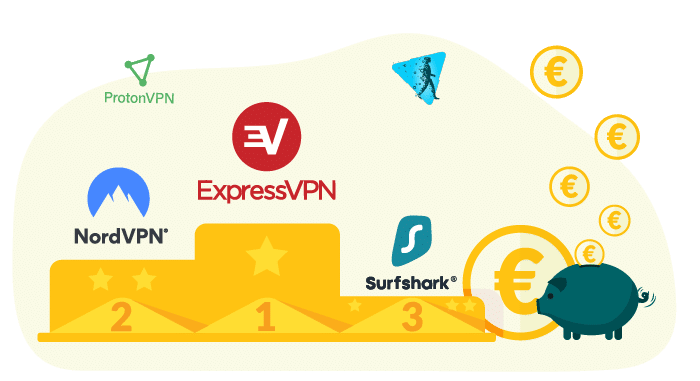 In dit artikel vind je een selectie van de meest betaalbare VPN-aanbieders in termen van prijs, snelheid, veiligheid en gebruiksgemak. We geven ook weer of de VPN-aanbieders een 30 dagen geld-terug-garantie hebben.
Hier beschrijven we kort wat een VPN is. Vervolgens geven we weer wat je voor de meeste VPN-aanbieders moet betalen, en wat het verschil is tussen gratis en betaalde VPN-aanbieders. De meeste VPN-aanbieders zijn relatief laag geprijsd en hebben geen groot prijsverschil. Kwaliteit staat dus voorop.
Het belangrijkste van dit artikel is onze uitleg over het vinden van een goedkope maar goede VPN en welke VPN-diensten wij aanbevelen.
Onze 5 aanbevolen VPN-diensten in termen van prijs:
Als we kijken naar de beste VPN-diensten kijk je natuurlijk niet alleen naar de prijs. Het heeft geen zin om een goedkope VPN-dienst te gebruiken als de dienst niet werkt. We hebben hieronder een lijst samengesteld waar we de VPN-diensten weergeven waarvan we denken dat ze het beste werken in vergelijking met wat je ervoor betaalt.
Wat betekent VPN?
VPN staat voor virtueel privénetwerk. Een VPN is een veilige tunnel tussen één of meer apparaten. Verschillende VPN-aanbieders huren verschillende servers over de hele wereld. Door je te registreren bij een VPN-aanbieder en het programma te downloaden, kan je verbinding maken met de verschillende servers over de hele wereld. Al het verkeer vanaf je apparaat verloopt dus via die server. Op die manier blijf je anoniem doordat derden op het web je verbinden met de server en niet via je origineel IP-adres.
Je kunt een VPN gebruiken om je anonimiteit en veiligheid op het internet te garanderen. Een andere reden is het omzeilen van de geo-blokkering, of je nu in een land bent waar er strenge censuur is, of als je verbinding wilt maken met een land waar de inhoud alleen in dat land wordt weergegeven. Je kunt bijvoorbeeld een VPN gebruiken om in het buitenland naar Ziggo te kijken, of om naar de Amerikaanse Netflix te kijken.
Hoeveel kost een VPN-programma?
De meeste VPN-aanbieders kosten tussen de 5 tot 10 euro per maand. Het is dus relatief eenvoudig om een goedkope VPN te vinden. Alle VPN-aanbieders bieden grote kortingen als je je voor een langere termijn abonneert, en hierdoor kan je echt besparen.
Als je je abonneert voor een half jaar, kost het VPN vaak niet meer dan 4 euro per maand, of zelfs nog goedkoper. Alle VPN-aanbieders die wij op onze lijst hebben staan bieden ook een 30-dagen geld-terug-garantie, wat betekent dat je je geld binnen 30 dagen terug kunt vragen als je niet tevreden bent met het product. Dit geeft de klant natuurlijk een goede zekerheid.
Gratis of goedkope VPN-dienst?
Het grootste verschil tussen de verschillende VPN-diensten is waarschijnlijk te vinden tussen de betaalde en de goedkope VPN-diensten.
Wij raden een goedkope VPN aan in plaats van een gratis VPN om verschillende redenen. Hieronder geven de belangrijkste redenen weer.
We willen echter niet zeggen dat je nooit een gratis VPN-dienst kunt gebruiken. Je kunt ze bijvoorbeeld gebruiken om te testen. Ze zijn namelijk gratis, dus je hebt niet veel te verliezen, behalve tijd. Wees echter voorzichtig dat je geen virussen binnenhaalt.
Het belangrijkste voordeel van een goedkope VPN-dienst ten opzichte van een gratis dienst is dat het verkeer veel sneller verloopt. De reden hiervoor is dat de gratis programma's gewoon niet de middelen hebben om te betalen voor de beste servers.
De betaalde goedkope VPN-programma's daarentegen hebben meer kapitaal en kunnen investeren in meer servers. Meer servers betekent hogere snelheden. Gratis diensten hebben vaak zo'n slechte snelheid, waardoor je amper kunt streamen of gamen.
Bovendien zijn de gratis programma's vaak veel minder veilig dan een goedkoop VPN-programma. Het is erg belangrijk dat je een VPN-dienst gebruikt dat een zero-logbeleid hanteert. Dan zal het VPN-programma jouw verkeer niet registreren, wat betekent dat je volledig anoniem bent bij het gebruik van de dienst. Dan hebben VPN-aanbieders niet de mogelijkheid om informatie over je te verkopen aan derden.
De betaalde goedkope VPN-programma's hebben nog andere voordelen, maar we gaan hier niet verder op in.
De beste goedkope VPN-aanbieders
Hieronder hebben we een lijst samengesteld van de VPN-programma's waarvan we denken dat je het meeste uit de prijs kunt halen. We hebben ons gebaseerd op de prijs, snelheid, veiligheid, klantenservice en andere relevante factoren.
1. ExpressVPN

Hoe je het ook draait of keert, en ongeacht waar je in principe een VPN voor nodig hebt, ExpressVPN komt bijna altijd als beste uit de bus. Deze aanbieder staat gewoon aan de top van alle factoren waarmee onze VPN-test rekening heeft gehouden.
ExpressVPN is niet de goedkoopste VPN-dienst, maar je krijgt veel voor de prijs. Wij zouden dus zeggen dat ExpressVPN de beste service is voor wat je betaalt. Echter, als je op zoek bent naar een goedkope VPN-dienst, dan bevelen wij andere diensten aan.
De sterke privacy is een van de sterke punten van ExpressVPN. ExpressVPN is gevestigd op de Britse Maagdeneilanden, zodat deze niet onder de jurisdictie van de EU en de VS vallen. Op deze manier kan je er absoluut zeker van zijn dat ExpressVPN je activiteiten niet registreert, nu of in de toekomst.
Als je series en films vanuit het buitenland online wilt streamen, is ExpressVPN zeker een goede oplossing. Deze dienst staat bekend om het omzeilen van Netflix zijn geo-blokkering. Het brede aanbod van servers en IP-adressen bevordert dit. Ook is de snelheid van de servers hier zeer hoog.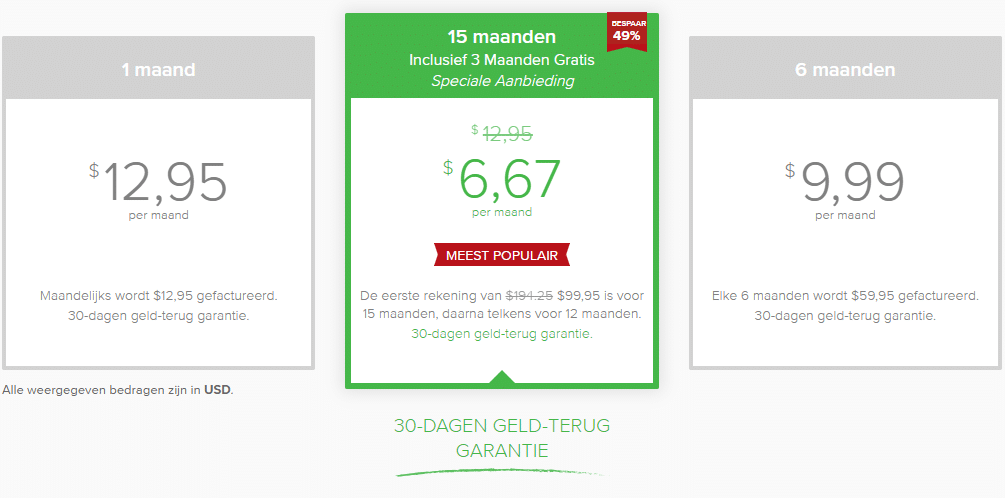 ExpressVPN is beschikbaar voor PC, tablet, mobiele en niet in de laatste plaats gamingconsoles. Het gebruiksgemak is zeer goed. Als er bij ExpressVPN al een minpuntje is, dan is het de prijs. Maar het is echter maar een beetje boven het gemiddelde. Je krijgt waar je voor betaalt!
In relatie tot de prijs is het ook essentieel dat je de dienst tot 30 dagen kunt uitproberen met een geld-terug-garantie, zodat je de kwaliteit zelf kunt testen.
2. NordVPN

Wij raden NordVPN ook aan als de beste goedkope VPN-aanbieder. NordVPN kost ongeveer € 10 voor een maandelijks abonnement, maar als je je abonneert voor een langere periode, dan betaal je slechts € 3.
Het bijzondere aan NordVPN is dat je echt waar voor je geld krijgt. Op die manier betaal je eigenlijk heel weinig in vergelijking met wat je ervoor krijgt. Naar onze mening is de snelheid, klantvriendelijkheid en veiligheid die NordVPN biedt van de hoogste klasse.
NordVPN heeft vele voordelen. Ten eerste heeft de VPN-aanbieder meer dan 3.500 servers in 60 verschillende landen. Dit betekent dat je over de hele wereld zeer hoge snelheden kunt bereiken.
NordVPN heeft meer servers dan alle andere VPN-diensten, en dat is een groot pluspunt voor NordVPN. NordVPN heeft ook meer dan 50 servers in Nederland, wat de service optimaal maakt voor gebruik in het land. Met NordVPN kan je er zeker van zijn dat je de optimale snelheid bereikt op de Nederlandse servers.
NordVPN biedt ook een 30-dagen geld-terug-garantie. Dit betekent dat je je geld terug kunt vragen binnen de eerste 30 dagen, waardoor je voldoende tijd hebt om de dienst te testen.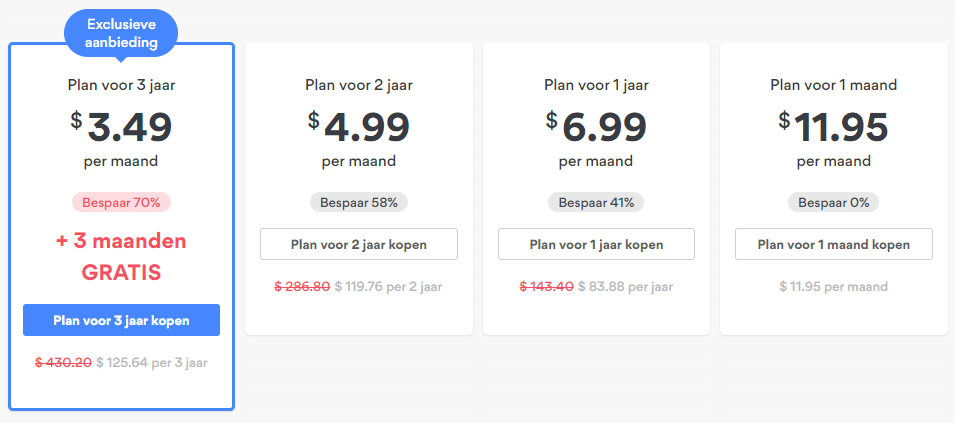 De veiligheid van NordVPN behoort ook tot een van de beste. NordVPN hanteert een zero-logbeleid, wat betekent dat je er zeker van kunt zijn dat je volledig anoniem bent en dat NordVPN geen informatie over je verkoopt aan derden.
NordVPN is een goedkope VPN die zeer goed is. Wij raden de dienst aan iedereen aan. Als je bijvoorbeeld Ziggo in het buitenland wilt zien, werkt NordVPN zeer goed.
3. Surfshark
Surfshark is een nieuwere dienst die zich onlangs heeft aangesloten in de strijd tussen de grote VPN-aanbieders zoals de bovengenoemde ExpressVPN en NordVPN. Hoe dan ook, Surfshark loopt net iets achterop, maar als je op zoek bent naar een degelijke en betaalbare VPN, dan is dit zeker een goede keuze.
Wij raden SurfShark aan als een goedkope VPN-dienst omdat de prijs eigenlijk niet meer dan € 2 per maand is als je je abonneert voor een langere termijn. Gezien het feit dat SurfShark een degelijk en goed product is, is dit een van de VPN-diensten waar je het meeste voor krijgt in termen van wat je betaalt.
Gemiddeld hebben VPN-diensten ongeveer 30 verschillende landen met servers. Surfshark heeft al meer dan 50 landen en biedt meer dan 500 servers verspreid over deze landen. Dit verzekert je ervan dat je de optimale server vindt op basis van uptime en snelheid.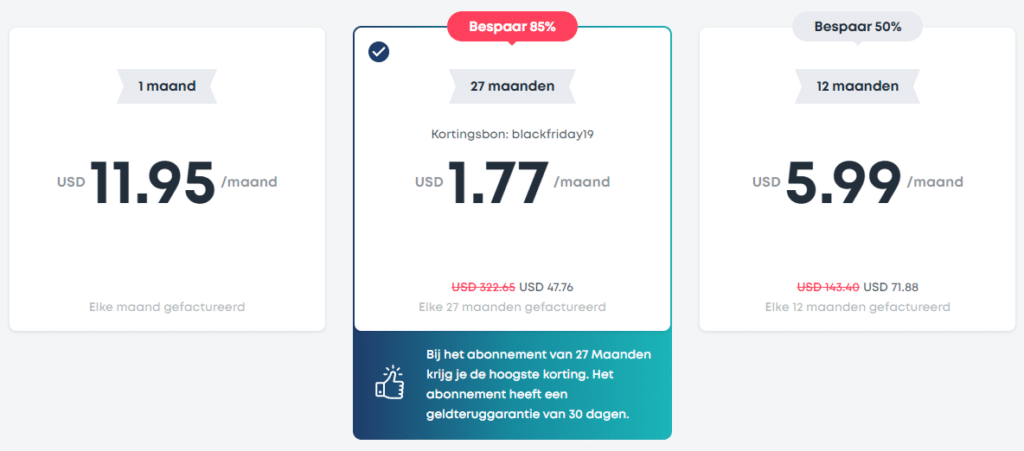 De snelheid ligt altijd iets lager bij het gebruik van een VPN, maar de topopties uit onze VPN-test beperken dit snelheidsverlies tot een minimum. Ook SurfShark scoort op dit punt zeker goed, en of je nu in HD wilt streamen of gamen, het is bijna onmogelijk om de snelheidsvermindering op te merken.
4. ProtonVPN

ProtonVPN is een van de beste goedkope VPN-aanbieders die er zijn, omdat de prijs echt laag is en het biedt ook een behoorlijk fatsoenlijke gratis VPN-dienst. De betaalde dienst is echt goed, maar eigenlijk is de gratis versie ook niet zo slecht.
ProtonVPN is een van de beste gratis VPN's die er zijn naar onze mening. Net als elke andere gratis VPN-dienst, kan de gratis VPN-dienst van ProtonVPN niet concurreren met betaalde diensten. Toch is de gratis versie van ProtonVPN een goed alternatief voor veel gebruikers.
De gratis VPN-dienst heeft slechts drie serverlocaties, de VS, Nederland en Japan. Als je verbinding wilt maken met een land buiten deze landen, is het helaas mogelijk dat de gratis versie niet voor jou geschikt is. De gratis versie heeft ook geen P2P of Tor. Met de gratis versie kan je dus maar één apparaat aansluiten.

Toch heeft de gratis versie van ProtonVPN het goed gedaan in onze tests. Het grote voordeel is dat de gratis versie van ProtonVPN een onbeperkte bandbreedte heeft. Terwijl de meeste andere gratis VPN-diensten worden aangeboden met gegevensbeperkingen, onderscheidt ProtonVPN zich tussen de rest. Ook de snelheid van de server is vrij degelijk voor een gratis dienst.
5. Hide.me

Hide.me is een andere gratis VPN-dienst. Daarnaast biedt de dienst ook een echt goede en goedkope betaalde VPN-dienst, dus als je tevreden bent met de gratis versie maar net iets meer functies wilt, kan je eenvoudig overschakelen naar de betaalde versie. Hoe dan ook krijg je veel voor je geld.
Met de gratis versie van Hide.me krijg je elke dag 2 GB aan data gratis. Dit is genoeg als het gaat om streaming en als je alleen maar aan het browsen bent is het helemaal prima. Je kunt dit echter maar op één apparaat tegelijk gebruiken, dus je kunt niet tegelijkertijd ingelogd zijn op je telefoon en computer.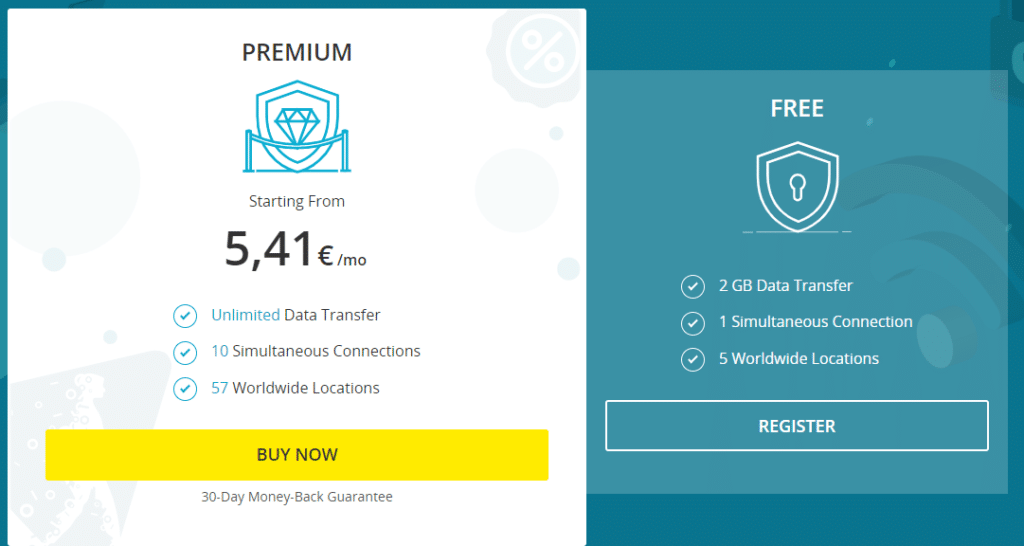 De gratis versie van Hide.me biedt servers in 5 verschillende landen, de betaalde versie biedt echter 56 servers in 5 verschillende landen. De aanbiedingen zijn minder in vergelijking met de betaalde versie, maar in vergelijking met andere gratis VPN-diensten is Hide.me vrij goed.
Waarop moet ik letten bij het vinden van een goedkope VPN?
Wanneer je op zoek bent naar een goedkope VPN zijn er verschillende factoren die je moet overwegen. De eerste is uiteraard de prijs. Hoe goedkoper de VPN-aanbieder, hoe beter voor jou.
Maar je moet ook kijken naar snelheid en veiligheid. Je moet er zeker van zijn dat de VPN-aanbieder veel servers heeft, vooral in het land waarmee je verbinding wilt maken.
Als je vanuit het buitenland verbinding gaat maken met Nederland, zal het gebruik van een VPN-aanbieder die geen Nederlandse servers heeft weinig helpen. Als het gaat om beveiliging is het van groot belang dat de VPN-aanbieder een garantie biedt dat er geen logging plaatsvindt. Dit betekent dat je niet het risico loopt dat de VPN-aanbieder informatie over je doorverkoopt aan derden op het internet.
Het is natuurlijk ook een goed idee om te kijken naar verschillende klantbeoordelingen op het web om een goede en goedkope VPN te vinden.
Om goedkope VPN-diensten te vergelijken, is het zeker een goed idee om te kiezen voor VPN-diensten die een 30 dagen geld-terug-garantie bieden. Op deze manier kan je de dienst gebruiken en vervolgens het geld terugvragen, zodat de dienst in werkelijkheid gratis wordt.
Hoe lang duurt het om verbinding te maken met een VPN?
Verbinding maken met een VPN-server gebeurt zeer snel. Wat je moet doen is beslissen over een VPN-aanbieder. Dit is wat de meeste tijd in beslag zal nemen. Als je eenmaal hebt gekozen voor een VPN- aanbieder moet je je registreren en betalen. Dan gewoon het programma downloaden en vervolgens installeren op het apparaat dat je wilt.
Over adverteren op de website
Inhoudstafel
Beste VPN-services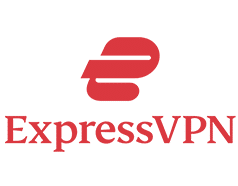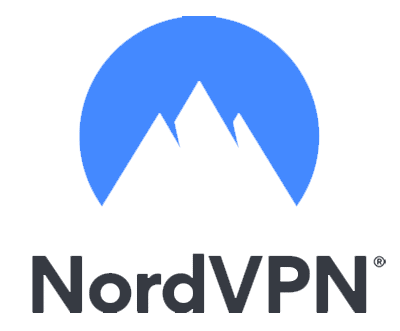 Over adverteren op de website