VPN-gids voor de iPhone – VPN-aanbevelingen voor iOS
Deprecated
: Creation of dynamic property WP_Term::$cat_ID is deprecated in
/home/1/v/vpnexpert/wp/wp-includes/category.php
on line
378
Deprecated
: Creation of dynamic property WP_Term::$category_count is deprecated in
/home/1/v/vpnexpert/wp/wp-includes/category.php
on line
379
Deprecated
: Creation of dynamic property WP_Term::$category_description is deprecated in
/home/1/v/vpnexpert/wp/wp-includes/category.php
on line
380
Deprecated
: Creation of dynamic property WP_Term::$cat_name is deprecated in
/home/1/v/vpnexpert/wp/wp-includes/category.php
on line
381
Deprecated
: Creation of dynamic property WP_Term::$category_nicename is deprecated in
/home/1/v/vpnexpert/wp/wp-includes/category.php
on line
382
Deprecated
: Creation of dynamic property WP_Term::$category_parent is deprecated in
/home/1/v/vpnexpert/wp/wp-includes/category.php
on line
383
Laatst bijgewerkt: 12/01/2022
Deprecated
: Creation of dynamic property WP_Block::$attributes is deprecated in
/home/1/v/vpnexpert/wp/wp-includes/class-wp-block.php
on line
179
Deprecated
: preg_match(): Passing null to parameter #2 ($subject) of type string is deprecated in
/home/1/v/vpnexpert/wp/wp-includes/block-supports/layout.php
on line
167
Deprecated
: Creation of dynamic property WP_Block::$attributes is deprecated in
/home/1/v/vpnexpert/wp/wp-includes/class-wp-block.php
on line
179
Deprecated
: preg_match(): Passing null to parameter #2 ($subject) of type string is deprecated in
/home/1/v/vpnexpert/wp/wp-includes/block-supports/layout.php
on line
167
Deprecated
: Creation of dynamic property WP_Block::$attributes is deprecated in
/home/1/v/vpnexpert/wp/wp-includes/class-wp-block.php
on line
179
Deprecated
: preg_match(): Passing null to parameter #2 ($subject) of type string is deprecated in
/home/1/v/vpnexpert/wp/wp-includes/block-supports/layout.php
on line
167
Deprecated
: Creation of dynamic property WP_Block::$attributes is deprecated in
/home/1/v/vpnexpert/wp/wp-includes/class-wp-block.php
on line
179
Deprecated
: preg_match(): Passing null to parameter #2 ($subject) of type string is deprecated in
/home/1/v/vpnexpert/wp/wp-includes/block-supports/layout.php
on line
167
Deprecated
: Creation of dynamic property WP_Block::$attributes is deprecated in
/home/1/v/vpnexpert/wp/wp-includes/class-wp-block.php
on line
179
Deprecated
: preg_match(): Passing null to parameter #2 ($subject) of type string is deprecated in
/home/1/v/vpnexpert/wp/wp-includes/block-supports/layout.php
on line
167
Deprecated
: Creation of dynamic property WP_Block::$attributes is deprecated in
/home/1/v/vpnexpert/wp/wp-includes/class-wp-block.php
on line
179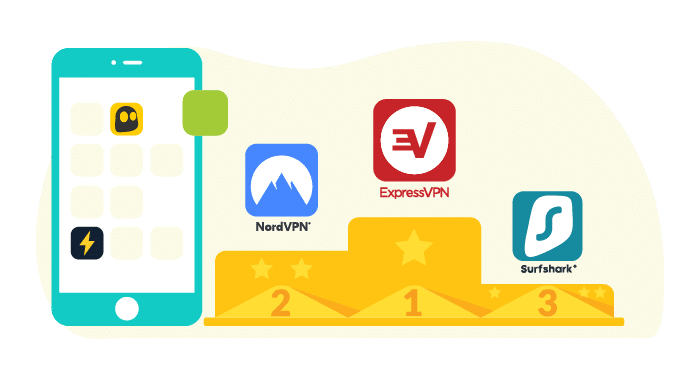 Dit artikel beschrijft verschillende VPN-diensten en we bekijken hoe ze presteren op de iPhone. We testen verschillende factoren, waarbij we vooral de nadruk leggen op gebruiksvriendelijkheid en de app zelf op de iPhone. Daarnaast bekijken we ook algemene factoren zoals snelheid, beveiliging, prijs, bruikbaarheid enzovoort.
Het gebruik van een VPN op je iPhone heeft veel voordelen. De prijs van ongeveer 5 euro per maand is het dus zeker waard om een VPN op je iPhone te gebruiken. Het grootste voordeel is een veel betere privacy, anonimiteit en veiligheid online. Het wordt moeilijker om je te volgen en informatie over je te verzamelen, en in het algemeen kan je je dus een beetje veiliger voelen in het dagelijks leven.
Daarnaast zal een VPN je helpen met andere dingen, waaronder het omzeilen van geo-beperkingen.
Een VPN zal je helpen als je bijvoorbeeld Nederlandse tv buiten Nederland wilt bekijken of de inhoud van Netflix wilt vergroten. Hetzelfde geldt als je je in landen bevindt waar veel censuur heerst, zoals China of Rusland.
Er zijn vandaag de dag ongelooflijk veel verschillende VPN-diensten die apps voor de iPhone aanbieden, en het is onmogelijk om ze allemaal te beoordelen. We zullen echter de meest bekende VPN-diensten beschrijven die algemeen bekend staan als een van de betere VPN-diensten. Voordat je verder leest, kun je de lijst met de beste VPN's voor iPhone hier bekijken:
Onze VPN-aanbevelingen voor iPhone
Welke VPN-dienst het beste is voor je iPhone hangt natuurlijk af van jouw gebruik en behoeften. Toch hebben factoren zoals anonimiteit, hoge veiligheid en het omzeilen van geo-blokkeringen een hoge prioriteit. Op iPhone en mobiele telefoons in het algemeen is het ook duidelijk dat een hoge gebruiksvriendelijkheid van groot belang is, omdat het op een klein scherm soms rommelig kan worden.
Een georganiseerde en gemakkelijk navigeerbare app is hetgeen de meesten zoeken, maar tegelijkertijd moet de app voldoen aan bepaalde standaarden. We hebben hieronder 3 van de beste VPN-diensten in de markt geplaatst en waarom deze diensten sterke kandidaten zijn voor iPhone en mobiele telefoons in het algemeen.
ExpressVPN

Goede snelheden, zelfs op de telefoon
Krachtige versleuteling
Zeer gebruiksvriendelijk
ExpressVPN is een van de bekendste diensten in de huidige markt. Ze zijn ook geen onbekende voor het gebruik op de iPhone. Het is een van de meest gebruikte VPN-apps. ExpressVPN beschikt onder andere over volledige anonimiteit, en hun basis in de Britse Maagdeneilanden ondersteunt dit.
Het is ook vermeldenswaard dat ExpressVPN ook een goede beveiliging biedt, die minstens zo belangrijk is op de telefoon als op de computer. Vandaag de dag kiezen namelijk velen ervoor om apps voor de bank te gebruiken op hun iPhone. Zo is 256-bit versleuteling goed om potentiële cybercriminaliteit uit de buurt te houden.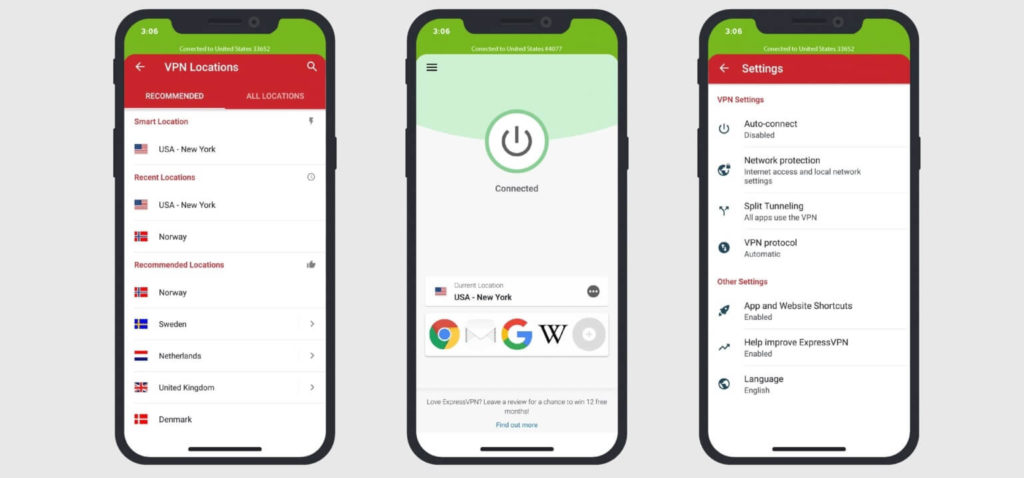 Met meer dan 3.000 servers in 94 landen heeft ExpressVPN ook een goed repertoire aan mogelijkheden om niet alleen je IP-adres te verbergen, maar ook in te loggen op verschillende servers. Velen willen bijvoorbeeld inloggen op een Amerikaanse server zodat ze bijvoorbeeld via hun iPhone in de bus naar Netflix in de VS kunnen kijken.
ExpressVPN levert een goede dienst, en als je het ook op je computer wilt gebruiken, kost het je niets extra. De app is eenvoudig te gebruiken op de iPhone. Het krijgt de klus geklaard!
NordVPN

Stream ononderbroken vanaf je iPhone
Servers in 59 landen
NordVPN is een naam die de meeste mensen kennen als ze op zoek zijn geweest naar een VPN voor de iPhone. Dit is een populaire app voor iPhone-gebruikers omdat het makkelijk te gebruiken is en niet in de laatste plaats wordt geleverd met veel nuttige functies. Daarnaast is NordVPN gevestigd in Panama, dus je hoeft je geen zorgen te maken dat ze jouw gegevens bijhouden.
De dienst biedt een enigszins unieke functie in de vorm van dubbele codering. Waar NordVPN nog steeds 256-bit versleuteling heeft, wat op gelijke voet staat met het systeem van het Amerikaanse leger, stellen ze zich niet tevreden met het versturen van verkeer via 1 externe server. NordVPN stuurt het verkeer door 2 servers, zodat je nog veiliger bent.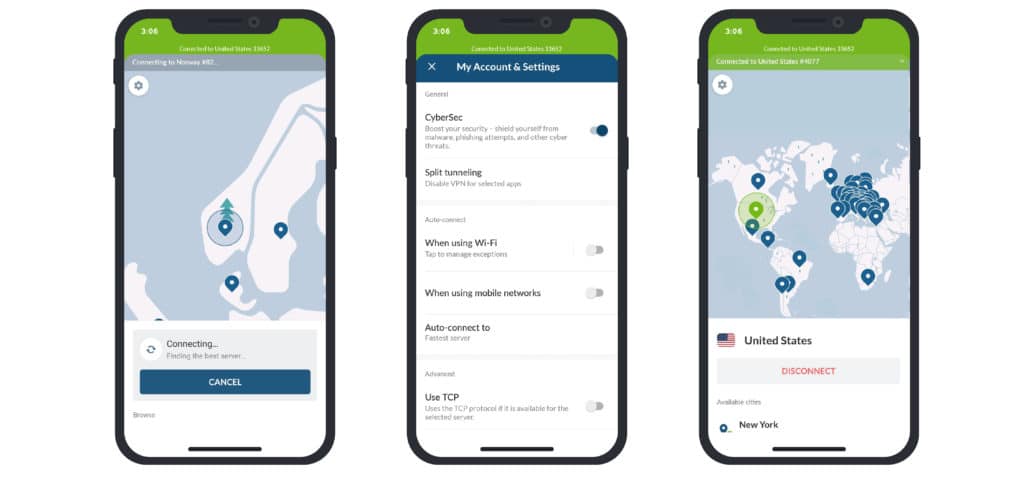 Misschien denk je nu dat dit de snelheid zal vertragen, maar dit is zeker het geval niet. De dienst heeft meer dan 5.000 servers verspreid over 59 landen, en is daardoor razendsnel. Je kan bijvoorbeeld Netflix in HD bekijken, bestanden uploaden, of een spel spelen, zonder problemen met je verbinding te ondervinden.
NordVPN staat ook bekend als een van de meest betaalbare diensten die er zijn, en je kan een abonnement nemen voor maximaal 3 jaar. Deze app is een geweldige aanvulling op je iPhone als je deze ook veilig wilt houden.
SurfShark

Ononderbroken browsen op iPhone
Goede versleuteling
Servers in 61 landen
SurfShark is misschien niet zo bekend als de twee bovengenoemde concurrenten, maar ze bieden wel een snelgroeiende service op de iPhone. Veel mensen wenden zich tot de dienst van SurfShark op basis van hoe het ervoor zorgt dat gebruikers anoniem zijn via het internet, ongeacht waar ze verblijven.
De dienst biedt zowel de genoemde 256-bit versleuteling, als Kill Switch en CleanWeb voor meer veiligheid. Met de Kill Switch word je meteen uitgelogd in het geval dat de servers van SurfShark stoppen met werken. CleanWeb werkt voor het aanvallen van malware en andere virussen voordat je ze ziet.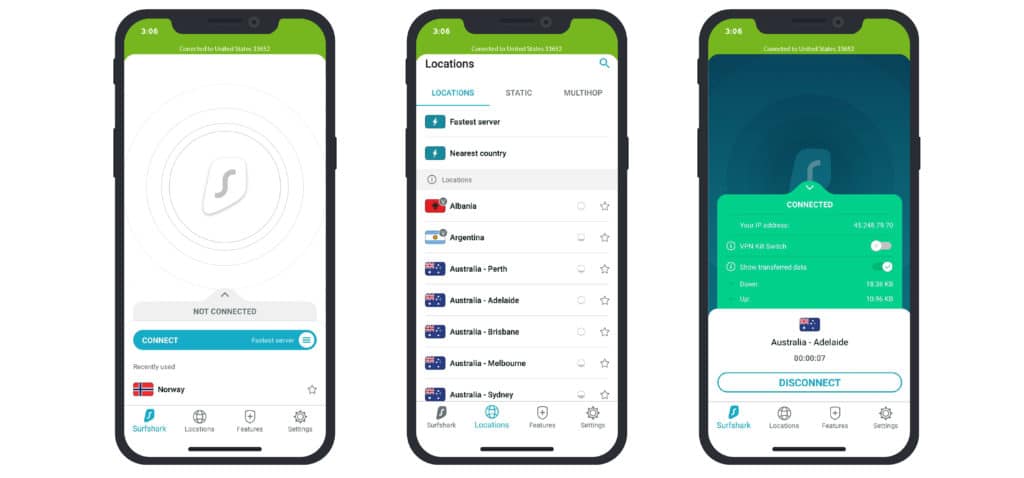 Ondanks de vele beveiligingsfuncties die SurfShark levert, staan ze vooral bekend om hun snelle servers, zelfs op de iPhone. Snelle servers zijn bijvoorbeeld handig voor het streamen van Netflix. SurfShark heeft iets meer dan 1.000 servers van hoge kwaliteit, en met deze verspreid over 61 landen, ben je er zeker van dat je vindt wat je zoekt.
SurfShark is ook een van de weinige diensten die toegang bieden tot een onbeperkt aantal apparaten, dus je hebt het VPN op je iPhone, computer, spelconsoles en elk elektronisch apparaat dat je wilt. Daarnaast is het ook een van de VPN-diensten met de meest betaalbare prijzen op de markt.
HideMyAss

Zeer goede app voor iPhone
Servers in 190 landen (!)
Goede veiligheidsfuncties
HideMyAss is ook een VPN die een zeer goede app heeft voor iPhone. De dienst is vandaag de dag gevestigd als een van de grootste op de markt, en met goede reden. Sinds mei 2020 hanteren ze een zero-logbeleid om de andere diensten op de markt te evenaren.
Als het op veiligheid aankomt, is HideMyAss een aanbieder die je kan vertrouwen. Ze gaan terug tot 2005 en zijn sindsdien overgenomen en verder ontwikkeld. Er zijn geen tekortkomingen als het gaat om verschillende beveiligingsfuncties, en vandaag de dag zijn ze een van de grootste VPN-diensten ter wereld.
HideMyAss is ook een van de allerbeste op de markt als het aankomt op servers in verschillende landen met zijn 190 servers. Er zijn maar weinig diensten die in de buurt komen. Maar servers in veel landen zijn van weinig belang als de servers geen snelle snelheden leveren. Hierover hoef je je met HideMyAss geen zorgen over te maken. In onze test leverden alle servers die we hebben getest zeer hoge snelheden.
Zoals met de meeste VPN-diensten, is HideMyAss ook niet erg duur. Als je een van de langere lidmaatschappen kiest, is dit een van de minder dure diensten op de markt.
TunnelBear

Goede app voor iPhone met gratis versie
Meer dan 2000 servers over de hele wereld
AES 256 encryptie
Dit is ook een dienst die een eigen app voor iPhone heeft die zeer goed werkt. Ze hebben de app ook zo gemaakt dat hij zo gebruiksvriendelijk mogelijk is. Dit kan je al merken bij het downloaden van de app.
Als het op veiligheid aankomt, evenaart Tunnelbear de allerbeste diensten op de markt. Ten eerste gebruiken ze AES 256-bit encryptie, wat op militair niveau is. Daarnaast hanteren ze een zero-logbeleid. Met andere woorden, je kunt er zeker van zijn dat Tunnelbear je veilig online houdt. Ze hebben zelfs een pagina gemaakt waar je kunt controleren of je met de juiste server verbonden bent.
Ze hebben iets minder dan 2.000 servers in 26 verschillende landen. Dit is gemiddeld zeer veel servers per land, maar een veel kleinere selectie van landen dan veel andere diensten. Dat gezegd hebbende, krijg je toegang tot de meest populaire landen, naast Nederland.
Je kunt met Tunnelbear 500 MB internet helemaal gratis gebruiken voordat je beslist of je voor de dienst wilt betalen of niet. De prijzen voor Tunnelbear zijn zeer redelijk als je voor een langer lidmaatschap kiest.
Hoe kan ik VPN op de iPhone installeren?
Het installeren van een VPN op de iPhone is zeer eenvoudig. Ga naar de app store en zoek een VPN. Vervolgens kan je het VPN downloaden en de dienst inschakelen door verbinding te maken met een server die je wilt.
Een VPN werkt als volgt: je maakt verbinding met een externe server, en al het verkeer loopt via deze server voordat je op het internet komt. Zo gelooft iedereen op het web dat je verkeer van deze server afkomstig is. Eigenlijk heb je het IP-adres veranderd zodat je niet meer gevolgd kan worden. Het is gemakkelijk te vergelijken met vermomd rondlopen op straat. Het zal moeilijker zijn om je te volgen.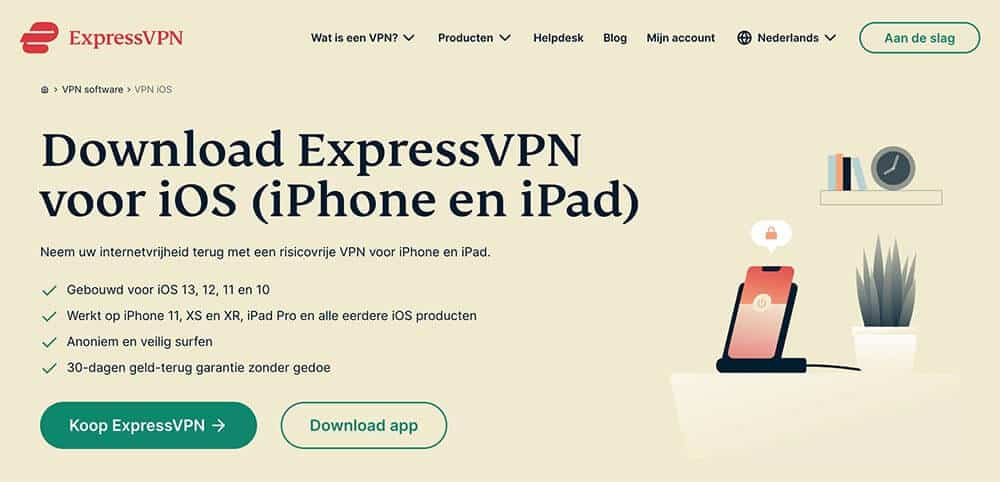 Zodra je verbinding maakt met de server die je wilt, zal je in staat zijn om het VPN te gebruiken voor jouw doel, zolang de VPN-dienst daadwerkelijk werkt natuurlijk. Er zijn namelijk ook veel slechte VPN-diensten, waar we later op terug komen. Als de VPN-dienst werkt, doe dan gewoon wat je wilt, of het nu is om de Amerikaanse Netflix te streamen, meer privé te verkrijgen of andere dingen te bekijken.
Het installeren van een VPN op de iPhone duurt niet meer dan vijf minuten. Het hele proces is relatief eenvoudig.
Gratis VPN-diensten voor de iPhone
Het eerste wat de meesten willen is een gratis VPN-dienst voor de iPhone. Niemand wil betalen om een VPN te gebruiken, en dan is een goede gratis dienst zeer nuttig. Er zijn ook veel gratis diensten te vinden via de app store, dus in principe zijn er goede mogelijkheden.
In de meeste gevallen raden we het gebruik van een gratis VPN-dienst echter af. De belangrijkste reden hiervoor is dat de gratis diensten veel minder middelen hebben dan de betaalde VPN-diensten, en dus wordt het aanbod compleet anders.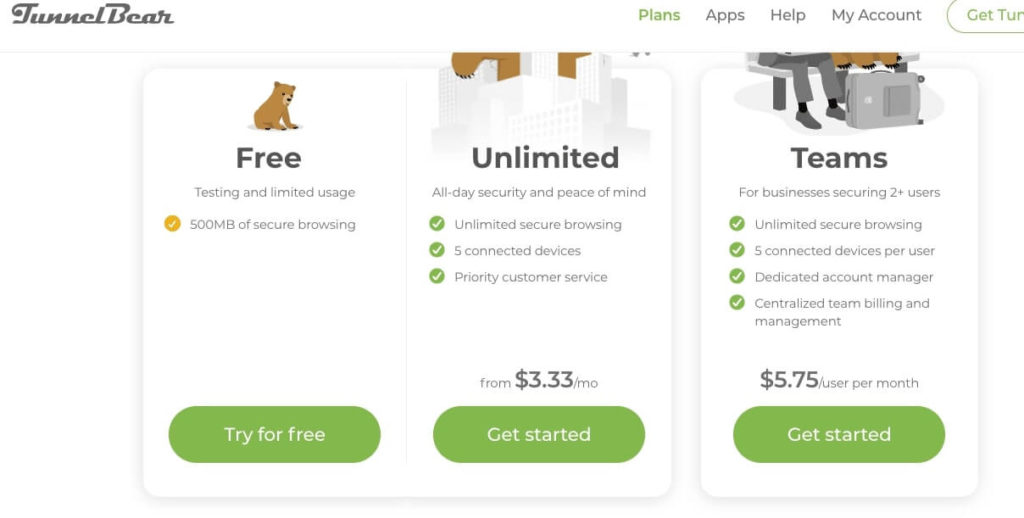 Het grootste probleem van de gratis diensten is dat ze heel vaak het verkeer van hun gebruikers bijhouden en aan derden verkopen. Dit geldt natuurlijk niet voor alle diensten, maar velen doen dit wel. Dit is ook logisch aangezien ze een manier nodig hebben om geld te verdienen.
Bovendien is de snelheid van de gratis diensten vaak erg laag. Dit probleem is zeer belangrijk in termen van iPhone en mobiel gebruik in het algemeen, omdat we afhankelijk zijn van de snelheid wanneer we onderweg zijn. Niemand wil twee keer zo lang aan taken besteden als je al weinig tijd hebt en gestrest bent.
De belangrijkste reden waarom de snelheid zo laag is, is dat de gratis diensten meestal weinig servers hebben en dat deze bijgevolg overbelast zijn. Een ander probleem met weinig servers is dat je eigenlijk geen verbinding kunt maken met de servers die je wilt. Als de VPN-dienst geen servers in Nederland heeft, kan je geen Nederlands IP-adres verkrijgen, wat natuurlijk een groot probleem is.
Dit zijn slechts enkele van de factoren die we willen noemen met betrekking tot gratis diensten voor de iOS systemen. Als je toch kiest voor een gratis dienst, raden wij je aan om te kiezen voor een gratis VPN-dienst die ook een betaalde versie heeft. Deze kunnen het zich meestal veroorloven om een veel betere gratis service te leveren – omdat ze hetzelfde systeem gebruiken als de betaaldiensten. Het probleem zal echter zijn dat je vaak niet meer dan een bepaalde hoeveelheid GB per maand kunt gebruiken. Maar dit kan een oplossing zijn als je alleen van tijd tot tijd een VPN gebruikt.
Voordelen van het gebruik van een VPN op de iPhone
Het eerste voordeel van het gebruik van een VPN op de iPhone is veiligheid. Het gebeurt vaak dat je verbinding maakt met openbare netwerken en hotspots, en dat is wanneer een VPN de nodige beveiliging biedt. Dit soort netwerken maken het gemakkelijk voor hackers om informatie te ontfutselen aan iedereen die verbinding maakt. Met een VPN gaat al je verkeer door een versleutelde tunnel en wordt het daarnaast ook niet opgeslagen. Hierdoor kun je zonder zorgen surfen, ongeacht met welk netwerk je verbonden bent. Dit is vooral handig wanneer je in het buitenland bent.
Verder geeft een VPN je de mogelijkheid om geo-beperkte inhoud te openen. Dit kan handig zijn als je de melding "deze inhoud is niet beschikbaar in uw land" krijgt op, bijvoorbeeld, Twitter of YouTube. Het geeft je ook de mogelijkheid om buitenlandse versies van streamingdiensten zoals Netflix en Amazon Prime Video te gebruiken.
Je kunt een VPN ook gebruiken om beperkte netwerken te omzeilen, zoals op school of op het werk. Merk op dat de meeste diensten zeer goede Nederlandse servers aanbieden. Dit betekent dat je niet afhankelijk bent van bijvoorbeeld een verbinding met een server in de VS of Frankrijk. In Nederland kan je dus gebruik maken van een VPN gebruiken zonder dat je het merkt.
Heeft de iPhone een eigen VPN?
De iPhone heeft geen eigen VPN-dienst. Het is dus niet mogelijk om instellingen en dergelijke in te voeren en direct verbinding te maken met een VPN. Dit zou misschien ook niet helemaal ideaal zijn, aangezien Apple zo veel persoonlijke gegevens verzamelt. De garantie dat deze gegevens niet bijgehouden en gebruikt zouden worden voor marketingdoeleinden zou dus best twijfelachtig zijn.
De iPhone heeft echter een zeer goede integratie met externe VPN-diensten. Dit betekent dat je het VPN snel kunt inschakelen via instellingen en het vervolgens kunt configureren via de VPN-dienst die je hebt gekozen. Het is dus geen probleem om het VPN te gebruiken op de iOS systemen, of je nu de iPad of iPhone gebruikt.
Tot op heden hebben we nog geen nieuws of informatie over de vraag of Apple zijn eigen VPN-dienst krijgt, dus dit wordt waarschijnlijk nog wel even wachten.
Hoe kies je een VPN voor de iPhone?
Om een VPN te kiezen moet je verschillende factoren overwegen met betrekking tot het doel van de VPN-dienst. Het is moeilijk om een volledige lijst samen te stellen op basis van alle specifieke behoeften van verschillende mensen, maar hieronder hebben we een korte lijst weergegeven die de meesten kunnen gebruiken om een VPN-dienst te kiezen. Als je denkt dat iets niet belangrijk is met betrekking tot jouw gebruik, kan je dat onderdeel gewoon weglaten. Dit zijn de belangrijkste factoren waarmee je rekening moet houden bij het gebruik van VPN op je iOS-systemen.
1. Heeft de VPN-dienst een app voor de iOS-systemen? Een heel belangrijk element is natuurlijk of de VPN-dienst een eigen app heeft voor de iOS-systemen. Het heeft geen zin om te betalen voor een VPN als deze geen eigen app voor iOS heeft.

Gelukkig heeft het overgrote deel van de VPN-diensten hun eigen software ontwikkeld voor iOS, Android, Mac, Linux en Windows. Toch is het een goed idee om dit te controleren, zodat je er absoluut zeker van bent dat je niet het verkeerde VPN kiest.
2. Hoe goed werkt de app op de iPhone en iPad? Dit is een belangrijke factor en de verschillende VPN-diensten kunnen aanzienlijk verschillen.

De VPN-diensten die wij op deze site aanbevelen werken zeer goed voor de iOS-systemen, en dit is een van de redenen waarom wij deze gewoon aanraden.Het is ook belangrijk hoe gebruiksvriendelijk en intuïtief het VPN werkt op de iOS-systemen.

Hoe de VPN-dienst op de computer werkt is voor deze gebruikers niet relevant. Je kunt dit nagaan door op het internet reviews en feedback te lezen over het VPN die je wenst te kiezen.
3. Op hoeveel apparaten werkt de VPN-dienst tegelijkertijd? Dit kan een belangrijke factor zijn als je het VPN op meerdere apparaten tegelijk wilt gebruiken. Velen willen bijvoorbeeld het VPN gebruiken op de PC of Mac, en op de iPhone of iPad. Velen willen bijvoorbeeld een VPN-dienst delen om geld te besparen.
Het aantal apparaten waarop je de dienst op hetzelfde moment kunt gebruiken varieert van VPN tot VPN. De meeste betaalde VPN-diensten laten het gebruik op meer dan 5 apparaten toe, dus dit zal geen probleem zijn, maar veel gratis diensten hebben aanzienlijke beperkingen, en daarom kan het goed zijn om dit te controleren voordat je een keuze maakt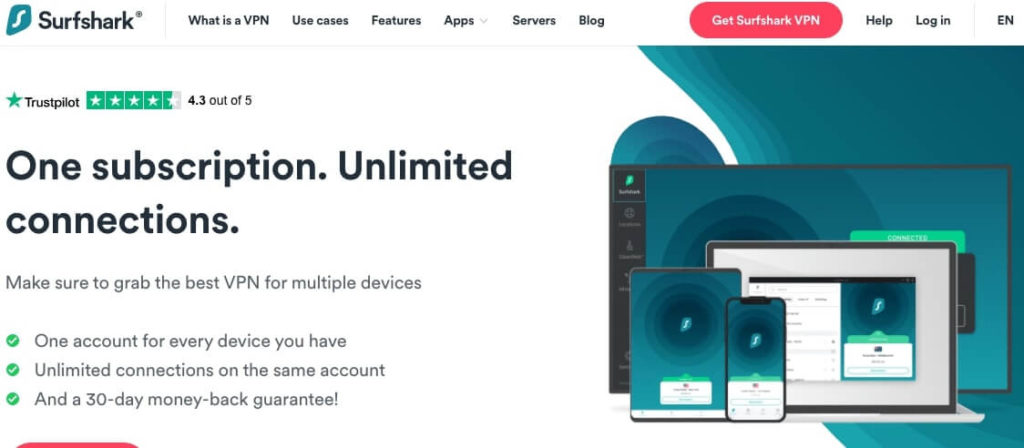 4. Hoe snel is de snelheid van de server? De snelheid van de dienst voor de iPhone is nog iets anders dat zeer belangrijk is. Elk gebruik van het VPN vertraagt de snelheid, omdat al het verkeer door een externe server loopt voordat het het internet bereikt. De snelheid van de beste VPN-diensten, zoals we in dit artikel aanbevelen, is echter bijna zoals oorspronkelijk.Veel gratis diensten zullen zeer traag zijn en belemmeren je in het dagelijks gebruik, deze zijn belangrijk om te vermijden.
5. Heeft de VPN-dienst servers in Nederland? Nog iets dat niet alleen belangrijk is voor de iPhone, maar voor elk gebruik van een VPN voor Nederlanders, is of de VPN-dienst servers heeft in Nederland. Dit geldt vooral als je in het buitenland bent en bijvoorbeeld Ziggo wilt bekijken.
Als de VPN-dienst geen Nederlandse servers heeft, kan je geen Nederlands IP-adres verkrijgen. Niet alle VPN-diensten hebben servers in Nederland, dus dit is eigenlijk iets wat heel belangrijk is om te controleren. Hoe meer servers de VPN-dienst in Nederland heeft, hoe beter, omdat dit meestal een betere snelheid betekent.
6. Hoeveel kost de VPN-dienst? Natuurlijk is de prijs een belangrijke factor voor de meesten. Wij hechten echter niet veel belang aan deze factor, omdat de prijs voor alle betaalde VPN-diensten ongeveer gelijk is.
Het kost ongeveer 10 euro per maand, en als je je abonneert voor een langere periode, is het maandelijkse tarief veel goedkoper. Bijna alle betaalde VPN-diensten hebben ook een 30 dagen geld-terug-garantie, zodat je geen risico hoeft te nemen.
7. Hoe goed is de beveiliging? Een belangrijke factor is natuurlijk hoe goed de beveiliging van de VPN-dienst is – als dit de belangrijkste reden is waarom je een VPN-dienst gebruikt. In ieder geval is het van cruciaal belang dat de dienst je gegevens niet registreert. Als de dienst dit wel doet, is het in staat om alles wat je doet te controleren, omdat je bijna altijd je iPhone gebruikt, toch?In feite zijn er maar een aantal VPN-diensten die het verkeer bijhouden, maar dit zijn meestal gratis diensten. De VPN-diensten die wij hier aanbevelen houden natuurlijk geen gegevens bij.De beste VPN-diensten hebben beveiliging en encryptie op militair niveau. Dit betekent dat het erg moeilijk is om je op te sporen of te hacken. NordVPN, ExpressVPN en CyberGhost hebben de beste beveiliging in onze test.
Samenvatting
Er zijn verschillende goede opties als je je iPhone wilt beveiligen met een VPN. De VPN-diensten verschillen een beetje van elkaar, maar het zijn allemaal goede opties. Zodra je een VPN hebt gekozen, kun je de applicatie eenvoudig downloaden in de App Store, en je daarna registreren of inloggen. Zodra dit is gedaan, volg je gewoon de instructies om verbinding te maken met een server.
We raden je aan om weg te blijven van de gratis diensten, aangezien hier veel problemen aan verbonden zijn. Bovendien zijn de allerbeste diensten al erg goedkoop, dus valt er weinig te besparen. Alle in dit artikel genoemde VPN-aanbieders zijn zeer goede alternatieven.
Kies een VPN waarvan je vindt dat deze aan je wensen voldoet. Als je deze aanbieder eenmaal hebt gevonden, valt er veel te besparen door te kiezen voor het langste lidmaatschap. Om de beste aanbieder voor jou te vinden, kun je de checklist hierboven gebruiken.
Over adverteren op de website
Inhoudstafel
Beste VPN-services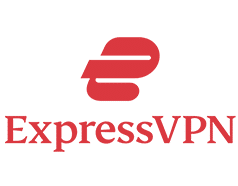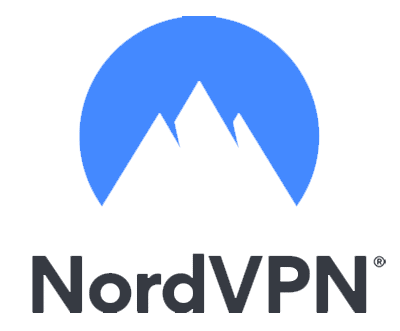 Over adverteren op de website